Physicist, architect take honors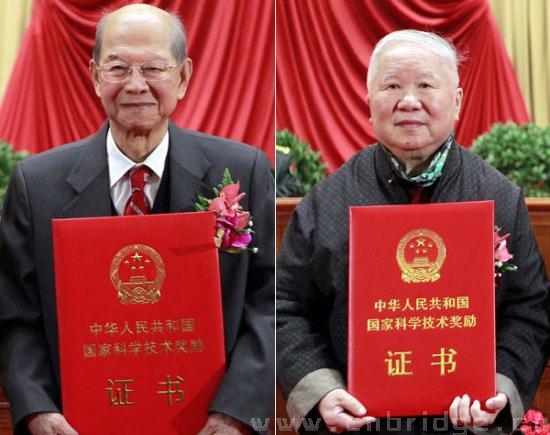 Physicist Xie Jialin (first left) and architect Wu Liangyong (second left) were each awarded the State Top Scientific and Technological Award by President Hu Jintao at a ceremony held in the Great Hall of the People in Beijing on Tuesday. (Photos by Xinhua, and Cui Meng / China Daily)
BEIJING
- China gave the country's top science award on Tuesday to physicist Xie Jialin, a pioneer in particle acceleration, and architect Wu Liangyong, whose research is guiding the nation's urbanization.
The laureates, both members of the Chinese Academy of Sciences (Wu is also a member of the Chinese Academy of Engineering), were each awarded the State Top Scientific and Technological Award by President Hu Jintao at a ceremony held in the Great Hall of the People in Beijing. In addition, they received a bonus of 5 million yuan ($793,870).
China has been offering annual awards - considered the country's answer to the Nobel Prize - to elite scientists for 12 consecutive years since 2000, and 20 have been honored so far.
Xie is best known for helping China build its first high-energy electron linear particle accelerator in 1964 and for contributing to the research and design of the Beijing Electron Positron Collider in the 1980s.
Wu earned his reputation studying the history of human settlement in China and applying the lessons learned to problems with China's urbanization.
Xie, 91, studied at Yanching University in China and the California Institute of Technology in the United States and then obtained a doctorate degree from Stanford University. He returned to China in 1955.
In his decades-long research career, Xie has made outstanding breakthroughs in accelerator physics, accelerator technology and free electron lasers.
Wu, 89, received a bachelor's degree in architecture from National Central University in Chongqing in 1944 and then was awarded a master's degree in architecture and urban design from the Cranbrook Academy of Art in the United States five years later.
When he returned to China in 1950, Wu committed himself to city planning, architectural design, landscape planning, as well as teaching and scientific research.
Three scientists from Japan along with five who hail from Germany, France, Britain, the United States and Australia, respectively, won the International Cooperation Award in Science and Technology.
They were honored for their contribution to China's science and technology progress in diverse fields, including mathematics, infectious diseases, medicine, biology, geology and nanometer materials.
Premier Wen Jiabao congratulated the laureates and commended Chinese scientists and foreign experts for their outstanding contributions to China's scientific community.
Wen pledged that China will continue its efforts to support innovation by creating a better environment for research and for young scientists to develop their careers.
German mathematician Andreas Dress, 74, was one of the eight foreign recipients.
Founder and the first director (2005 to 2010) of the Partner Institute for Computational Biology, a joint venture between the Chinese Academy of Sciences and the Max Planck Society in Germany, Dress was awarded for helping foster young Chinese mathematicians.
During his five-year tenure, Dress facilitated the formation of a vibrant science community in China that has nurtured many talented youth and won recognition from the international community.
"Great changes are coming to China anyway, and I am glad to be part of it," Dress said.
He said he is confident that China will produce its own Nobel laureates in the near future.
So far, one foreign organization and 74 individuals have received the top honor from China.
Xinhua contributed to this story.
Related Terms: news-chinese-mainland
Disclaimer:China bridge network publishing this article for the purpose of dissemination of more information ,the statement of the text wasn't confirmed. The point of view just stands for the articles ,has nothing to do with Chinese Bridge Network. If the owner of copyright want to delete please let us know and we will remove it within three working days , thank you!